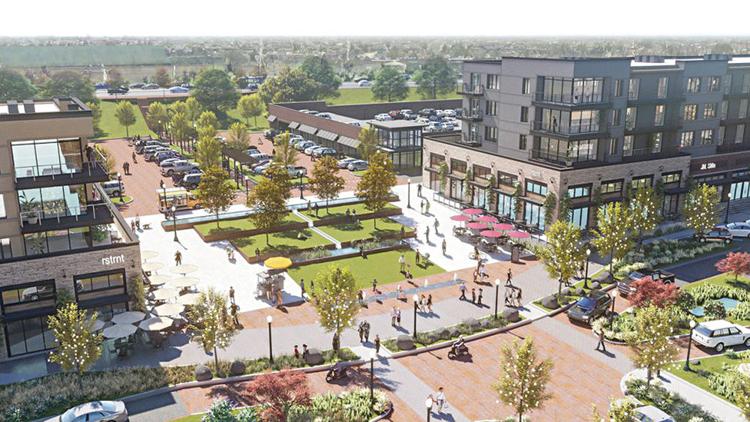 The Crestwood Board of Aldermen on April 9 granted a six-month extension to developers of the proposed Crestwood City Center, the former Crestwood Plaza property.
The original, 36-month redevelopment agreement between Crestwood and Chicago-based UrbanStreet Group, LLC, was executed April 6, 2016, setting the contract to expire this April. With the extension, the new date will be Oct. 6, 2019.
One board member questioned the wisdom of allowing more planning time for the long-awaited redevelopment project. The project encompasses more than 794,000 square feet of retail, office and residential space, as well as a potential connection to nearby Grant's Trail.
This mixed-use project represents $25 million of public tax increment financing for the city's iconic 47-acre property at the corner of Watson and Sappington roads. A Community Improvement District and a Transportation Development District for the former Crestwood Plaza property also were established in 2016.
Crestwood City Administrator Kris Simpson recommended extending the agreement, given that the third and current redevelopment team at St. Louis-based Walpert Properties appeared to be in final stages of its site proposal. Last fall, Walpert took the property under contract from land owner UrbanStreet, with the sale contingent on Walpert securing tenants for the project so construction can proceed.
Prior to that, UrbanStreet Group had been responsible for redevelopment efforts since 2015 for the vacant property, and Chicago-based Centrum Partners started the same efforts in 2012.
Crestwood Alderman Jerry Miguel said all that's recently been offered regarding the site's redevelopment is "hope without real details.
"We keep hearing actions are just around the corner, but Walpert doesn't look to have construction in the works until 2020," added Miguel. "I think we need to step back and and examine where we are with this project. They keep saying they're getting closer, but we certainly have no assurances."
He recommended declining the extension, or at least cutting it in half to three months with negotiations to begin immediately.
"We're all frustrated with waiting, but Walpert has doubled the development to a $200 million project without asking for more TIF, and it would be a drastic mistake to jerk plans around now," said Crestwood Mayor Grant Mabie.
Mabie supported extending the agreement so financing could be left in place, and Walpert could continue signing tenants to match the new master plan unveiled on Oct. 3.
Alderman Justin Charboneau noted that UrbanStreet also represented potential, but then disappeared for two years.
"I cannot fault Walpert for that. The energy since they took over has been amazing. I think six months is the least we can do to give them a full year of working on this project. There are no big fish stories going on, and we're at a crucial moment for this city's future," Charboneau said.
Built in 1957, Crestwood Plaza was the first major mall with more than 1 million square feet in the St. Louis region. At its peak, the mall offered 100-plus retailers. It closed in 2013.
Kent Evans, Walpert Properties director of development, said they've recently had "tremendous activity" and that letters of intent were signed with several "cornerstone" tenants. But he declined to reveal exactly which retailers, citing non-disclosure agreements.
"We definitely want to talk about tenant names and dates, but we just can't yet. We have architects designing buildings, and we're working on balancing plans for daytime and nighttime uses," Evans said.