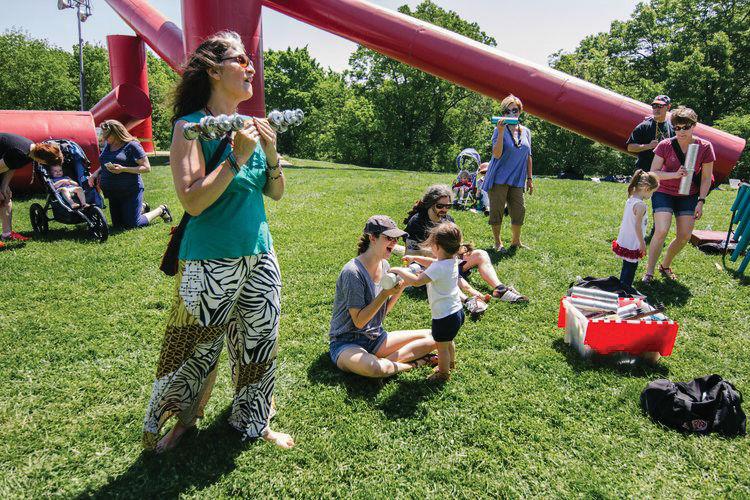 St. Louis' favorite Mother's Day weekend tradition — the Laumeier Art Fair — features local food and beverage vendors, hands-on activities for kids, live music and up to 150 juried artists from across the country.
The event takes place rain or shine on Friday, Saturday and Sunday, May 10, 11 and 12. Event proceeds support Laumeier's presentation of education programs, temporary exhibitions and public events.
Event times and dates are: Friday, May 10, 6 to 10 p.m.; Saturday, May 11, 10 a.m. to 8 p.m.; and Sunday, May 12, 10 a.m. to 5 p.m. Admission is $10 for ages 11 and up. Those 10 and under are free, as are Laumeier members.
Public event parking is free and located at 3636 S. Geyer Road, directly north of the park. It is accessible from southbound Geyer Road or westbound Rott Road only. ADA-accessible parking (with tag) is free and located at the park's lower entrance at 12580 Rott Road.
ENTERTAINMENT
Live music all weekend!
MAIN STAGE
Friday, May 10
6–7 p.m. Le'Ponds
7:30–8:30 p.m. The Maness Brothers
9–10 p.m. DJ Nune is Lamar Harris
Saturday, May 11
10:30 a.m.–12 p.m. Ghost Light
12:30–2 p.m. Dave Black Group
2:30–4 p.m. River Kittens
4:30–6 p.m. Funky Butt Brass Band
6:30–8 p.m. Kim Massie
Sunday, May 12
10–11 a.m. Duhart
11:30 a.m.–1 p.m. Annie & The Fur Trappers
1:30–3 p.m. The Grooveliner
3:30–5 p.m.: Sean Canan's Voodoo Players
CREATION LOCATION
Saturday, May 11
1:30–2:15 p.m. Juggling Jeff
3–3:45 p.m. Juggling Jeff
Sunday, May 12
11:30 a.m.–12:15 p.m. Juggling Jeff
1–1:45 p.m. Juggling Jeff