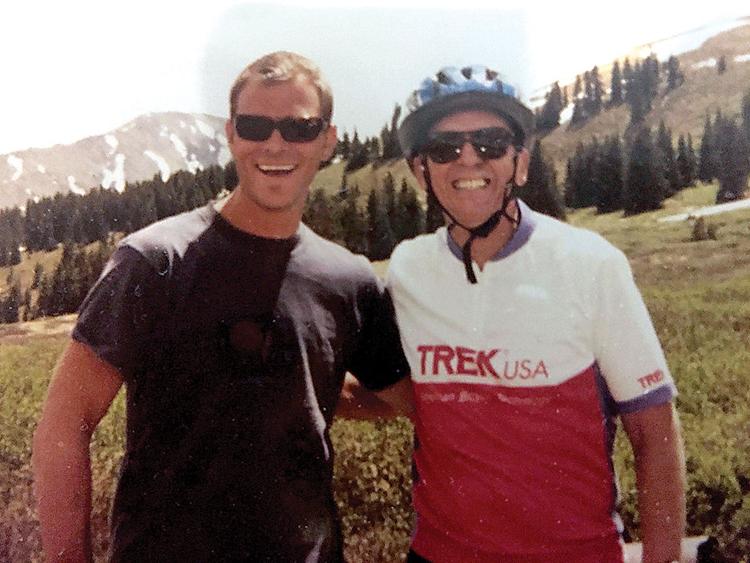 Since we've been abuzz lately about random acts of kindness, here's one more, in the hopes it might lead to another ...
At the moment, it's represented by a picture on a wall, a grainy photograph of a young man and an older gentleman on Breckenridge, Colorado's Boreas Pass Road. My longtime friend Colleen Scott remembers it like it was yesterday, her family on one of those multigenerational vacations at one of their favorite places. The kind of vacation that makes lifetime memories.
And so on Sunday, June 11, 2006, her dad, Richard Lake, 70 at the time, asked her to drive him to the bottom of a mountain pass so he could cycle the six miles up. "He wanted the car ride down," she said, "because biking downhill would have been too easy."
She dropped him off, hiked a little herself, then drove up a rough, rutted, muddy road. "The car started to feel loose at one point," she said, "and was difficult to steer, but I figured it was the road."
When she got to the top, he was there waiting, wondering, as dads would, how she didn't feel the flat tire. Then father and daughter, slightly flummoxed, started reading a set of instructions on changing a tire when a young man approached and said simply, "Sir, can I help you with that?"
He took over and changed it in no time. He even agreed to a picture, a Good Samaritan with a toothy grin.
That would be the last photograph taken of Lake, a retired school teacher and deacon in the Catholic church. Four days later, back home in St. Louis, he was killed in an unimaginable eight-car accident on Interstate 64, just west of the Interstate 270 interchange, rear-ended by a semi-trailer that didn't brake quickly enough for slowed traffic.
We all grieved. Scott is one of my best friends, and I had known Mr. Lake, a kind, gentle man who didn't know a stranger, since I was 14.
Scott, who is now known as Colleen Hogan, is hoping that one random act of kindness dissolves into another. She'd like to find the man whose picture has hung both above her desk at work and in the hallway of her Lees Summit, Missouri, home for some 13 years now.
So maybe someone knows someone who lived or worked in Breckenridge in the summer of 2006. Maybe someone will share the column — and the photo — when it's posted on Facebook. Maybe "Sir, can I help you with that?" aren't the last words of this story.
"I want him to understand how much his kindness touched us," she said. "It's been 13 years, but he lives on with my dad, in my hallway and at my office. He's part of our lives."